Already its start of the Year 2020, a new year, hope everyone had a great time with their families & friends around. It's Day 21 of Thoughtful Thursday Series -#ThoughtfulThursday. One of the "me-time" afternoons for me and I started thinking about leadership, as always want to be a leader[one of my interest area], so no doubt spending time on writing my blog about leadership and having a belief in a Second Chance.
We always talk about getting a chance in a life to be successful, to be wealthy, to be happy and so on. When it comes to career, in that too, we seek for a chance, to grow further in a particular direction. Let's talk about this Chance and how it is associated with a Leadership.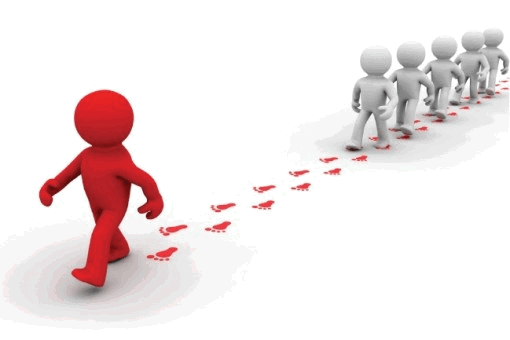 Generally, there are two kinds of people - Leaders and Followers. When we talk about leaders - this is a person, who brings new thinking, new change to the society or professional environment, who brings new ideas to generate more revenue or profits or organizational growth / re-structuring, who is a good communicator, who can inspire others and so many things. You can call them self made or person who have courage to stand for something good. Followers are those who follow some leader, believes someone or some idea/thought, but that doesn't mean they can not be a leader, they can be a leader one day, if they practice and if they aspire to be one.
I believe that, everyone is not born as a Leader, but some people learn to be a leader and show enough courage to stand for something good.
On the same line, a leader can be one who believes in a Second Chance. Yes, very true. I always believe in it. Everyone deserves a second chance to achieve what they want [Fame, Wealth, Success, Happiness etc.]. Life is all about experiments, some can be successful, some can be failures. You learn a lot when you fail at something, but everyone is not good at handling those failures. A person who is capable of handling those failures in a life and figures the way out, can be a great leader.
If we try to see the examples of successful leaders[entrepreneurs], most of them had failed before they achieved that success. If we think about some successful entrepreneurs [business person], e.g. Evan Williams - He initially founded a company called Odeo, a podcasting platform. But sooner, Apple announced that, the iTunes store would include a podcasting platform, making Odeo obsolete. And then he co-founded the social media giant Twitter, which has almost 126 million daily users now. Williams example shows us that, with a second chance he succeeded again in his business. Another example is Fred Smith - While studying at Yale University, Fred Smith presented a business idea for a parcel service that could deliver packages overnight, in his business management class that received a nearly failing grade. Smith ignored the grades and founded FedEx. Fred's example shows his courage to take steps to implement it and belief in his idea. You can see many such successful entrepreneurs - Bill Gates, Walt Disney, Thomas Edison, Mr. N R Narayana Murthy, Ratan Tata, Warren Buffett, Steve Jobs and so on, everyone had a failure before they succeeded. But, they didn't became a leader because of their success, they became a leader for believing in a Second Chance, their risk taking abilities and showing their courage to be successful again.
We took examples of all entrepreneurs, but if we think about our professional growth in any particular industry/organization/profession, it's not required to be an entrepreneur and start own business always to be successful, but it requires courage, it requires to adapt certain skills as you grow in a ladder of your professional growth, it requires strategic thinking, it requires risk taking abilities, it requires to adapt leadership skills, it requires innovation, it requires commitment, if you want to achieve something big. We can take an example of current CEO of Alphabet Inc. and its subsidiary Google LLC - Sundar Pichai. He Joined Google 11 years ago, but due to his hard-work, skills, commitment, innovative mind, today he is a Leader of one of the leading organizations in the world.
Though its again an individual choice, the passion, the commitment and what one enjoy doing the most, there is always a Second Chance when things doesn't work the way you think in any profession you are in. I would say "Everyday is a Second Chance". But I have seen people missing that chance because, they are too busy running behind something or they took their first failures too seriously. It's ok to consider the failures and learn from those, but its not required to loose courage to try again.
So, always believe in a Second Chance, if you didn't achieve something at first go. Being successful has many factors associated, also being successful for a Longer Period has many challenges too. We will try to explore those one by one along the journey of growth and our series #ThoughtfulThursday and #SoLeadSaturday. But remember there is always a Second Chance to achieve something in a life or a career. Its all about how you identify and utilize it.
When it comes to leadership, either leader should be able to identify and utilize this Second Chance or Leader should be able to give other people a Second Chance to perform.
I would like to hear your thoughts around it too. So, do write me, if you have any incident/story/experience to share, which can inspire people and make them believe in a Second Chance.